LAMB JAM MASTERS 2013
$50 for Lamb dishes from top Chefs with unlimited beer and wine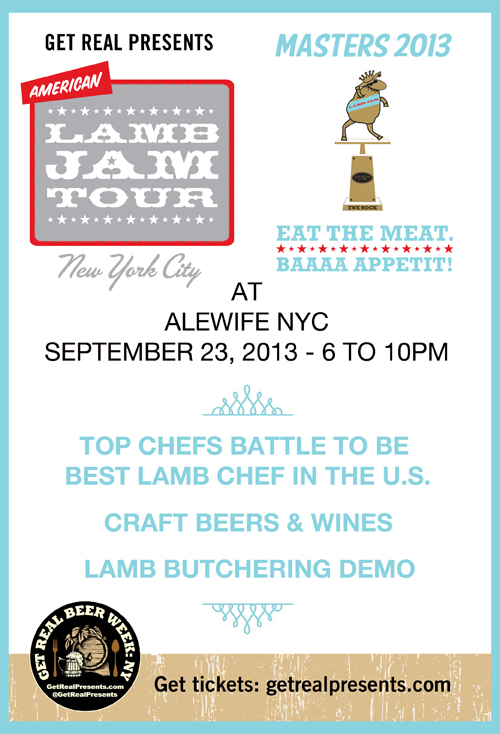 Monday, September 23, 2013
Alewife
5-14 51st Avenue, Long Island City, NY 11101
6:30 pm – 9:30 pm
VIP TICKET
$60
- 30 Minutes Early Entry
- Tastings of Sheep's Milk Cheese & Charcuterie
- Lamb Dishes from 6 Chefs
- Unlimited Tastings of Beer & Wine
- 2 Votes for People's Choice
- Lamb Butchering Demo

REGULAR TICKET
$50
- Lamb Dishes from 6 Chefs
- Unlimited Tastings of Beer & Wine
- 2 Votes for People's Choice
- Lamb Butchering Demo
Brought to you by the American Lamb Board, The Lamb Jam tour traveled to Portland, Boston, Washington, D.C. and San Francisco. Approximately 15-20 chefs from each market compete head-to-head for tops honors using local lamb in four cut categories – breast, leg, shank and shoulder. The chef dishes are judged by a panel of local media judges who declare the best in show chef.
Get Real Presents has partnered with the American Lamb Board to bring this prestigious event to Alewife in NYC. The event will serve as the series finale where the Best in Show Chef from each city will battle to be crowned the Lamb Jam Master 2013. Local Chefs and Craft Beers will be showcased along with the finalists. The event will also feature a very special lamb butchering demo curated by Dickson's Farmstand.
CHEFS AND FEATURED DISHES
- Mark Hosack – Gracie's Dining – Portland, OR -Lamb Shank with Israeli Couscous with Dried Fruit, Mint, Grilled Garlicky Greens Lamb Demi
- Michael Scelfo - Russell House Tavern – Boston, MA -Smoked and Braised Lamb Belly on a Steamed Bun with Pickled Radishes and Herb Salad
- Marjorie Meek-Bradley – Ripple – Washington, DC -Lamb Shank Ragu with Potato Gnocchi, Peas, Pickeled Ramps, and Garrotxa Goat Cheese
- Vernon Morales – Salt House – San Francisco, CA -The Lamb and the Giant Peach- Vadouvan spiced lamb riblets, Tamarind BBQ sauce, white peach chutney, lemon cucumber and radish raita
LOCAL CHEFS AND FEATURED DISHES
- Chef Tommy Mosera - Tommy Lasagna – New York, NY -Lamb Lasagna
- Michael Haigh – Alewife NYC – New York, NY -Lamb shoulder pastrami sandwich on homemade rye
SPONSORS
Beer:
-21st Amendment
-Harpoon Brewery
-Port City Brewery
-more TBA
Liqueur:
-Barrow's Intense Ginger Liqueur
Wine:
-Barboursville
-Boxwood Winery
-Corvalle
-ERATH
-Hestia Cellars
-Obelisco
-Precept Wine
-Seghesio Family Vineyards
-Shannon Ridge Family of Wines
-Sparkman Cellars
-more TBA
Features:
-Border Springs Farm – Charcuterie
-Dickson's Farmstand Meats – Butchery Demo
-DIY Rub Station – Rub Station
-more TBA
**You must be 21 years of age or older with a vlaid ID to purchase & attend all Get Real Beer Week: NY 2013 events.